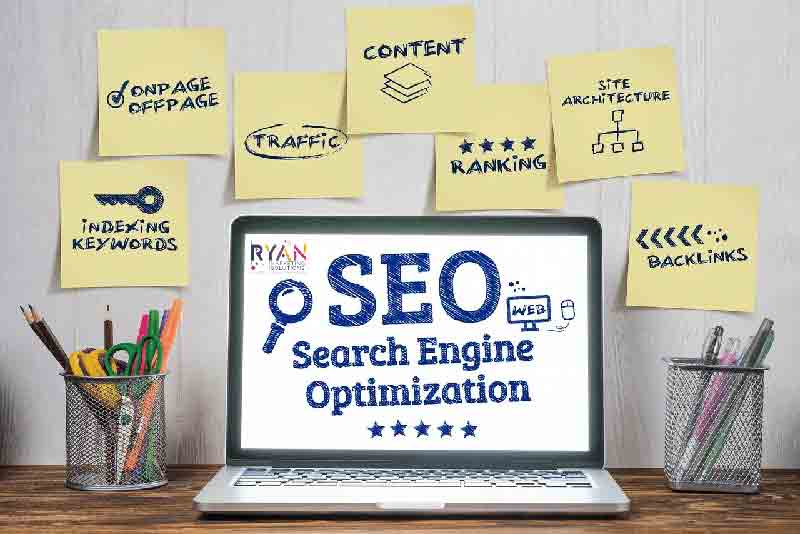 Are you a small business owner and noticed that your website does not appear in Google's, Bing, organic searches? Want to increase the discoverability of your website pages? Looking for ways to address this issue? Then this blog post is for you.
Organic searches relates to any non paid search result from a search engine (Google, Bing, AOL, etc). It can take different shapes such as: video carrousels, featured snippets, top stories, and lines of text –"blue link" results. 
They are very important because it represents the most effective way of driving high quality traffic to your website. Below I am going to list 10 Search Engine Optimisation (SEO) tips that will increase your rankings on search engines organic searches.
Create Video Content – Video represents the main source of information for 66% of the people. It has the highest engagement rates from all types of content out there.
Did you know that brands creating and using video content grow their company revenue by 49% faster, than the businesses that do not utilise it? Or that the video increases the chance of being listed on Google's organic search results by 53 times (Forrester Research Study)?
Therefore, video should be the number 1 content type for your digital marketing campaigns. To create video content you can use tools like Biteable, Vimeo Creator, Animaker or use Social Media (Facebook, Instagram, TikTok) native tools.
Use Internal Links Between Your Website Pages – This is part of on-page SEO optimisation. Creating links between your website pages, blog posts improves your website page rank in SERP (Search Engine Results Pages) and keeps visitors longer on your website. Increased page views translate into a lower bounce rate and higher engagement. These links can be added manually (if don't know how we can help) or automatically, using plugins, in websites built with Content Management Systems (CMS). Fortunately, for your business, not many are using this method (or think is not important) so it represents a good opportunity for you to rank higher than your competitors in SERP. 
Publish NEW Content Regularly – It is essential to create new content regularly for your social media channels or for your website. Google's RankBrain algorithm plays an extremely important factor in search engine result pages SERP.
If your content (video, text, images, etc) is organised, engaging and captivates the user attention you have more chances to rank higher in searches than your competition.
 According to experts User Experience (UX) is the primary determinant factor for optimising your SEO for RankBrain, Goggle's AI algorithm.
When creating content you need to focus on some important aspects such as:
Voice Search – this is a very popular way of searching content by users. It is predicted that in 2022 more than 55% of households will own a voice search device. Innovations like Alexa, Google Assistant, Siri have come a long way and are used by a large chunk of the population.
As a tip when optimising for voice search use long keywords, phrases that user use every day. Try to create pages, blog posts that answer FAQ's. For example use the following "Where," "When," "Why," "How," "Who," "What," in the titles of the page(s). They are extremely useful for voice searches. Voice search is on a continuous ascension, and ignoring this trend can cost your business a lot.
Content Quality – Google has stated numerous times that content quality is critical for search engine rankings. Extensive audience persona, search intent research is required in order to create quality content. As a rule focus on what your business audience prefers. Video is more appealing to the younger audience whereas text, graphics images is more suitable for more mature audience.
Long Form Content – According to SEMRUSH long form content will help improve your SERPs. Your blog posts should have more than 1200 words. It has to be structured in sections to be more scannable by readers.
 Ensure your content is linked to reputable, authoritative sources with a high authority score (whenever possible). Also include sharing links above the main headline and after the last paragraph of the article. DON'T waffle, write quality content that will keep your readers engaged.
Optimise your images – this is a well known fact that image optimisation will improve your SEO. Images are used to give a better structure to your page content. They are an important part of the on-page Search Engine Optimisation.    In the near future users will be able to use images to obtain more information, purchase products and many more.
It well known that an image says a thousand words. They are useful for helping users understand and engage better with your written content. Also they are beneficial for breaking –up big chunks of text in your website blog posts or pages.  To optimise your images you should use the following:
Add ALT text to let search engines know what your image represents. Also important for screen reading tools to understand the appearance of your image.
Name correctly the file. Add a keyword or 2 in the name of the file.
Reduce the file size – use compression tools such as Jpeg Optimiser, tiny PNG or for advanced professional use Photoshop, save for web tool.
Add Image Captions – It is up to you if you're using the caption field or not. But sometimes it can be used to add a description of the image, insert focus keyword, a joke or a personalised message.
Choose the right file type – As a rule use PNG for higher quality images or those that have transparent background or includes text. Use JPG or GIF's for others. There's another file format developed by Google, .webp. It helps reduce the size of the image without reducing the quality and make the web faster.
Add images to your sitemap – very useful for businesses that use imagery to showcase their products or services. By giving search engines (Google, Bing, AOL) clear information about your images you increase the probability of showing them in image searches. In turn this will improve your discoverability in SERP.
Focus on Local SEO – Local SEO is important and is continuously evolving. Almost everyone looks for products or services in a defined area or region.
Therefore, is necessary to add you business in all local online business directories. As a first step you should create a Google My Business and a Bing My Business Page. Here add your business location, contact details, opening hours, videos, images, etc.
Focusing on Local SEO is extremely useful as there is always less competition and your business has a much better chance of getting high rankings on local searches.
Wrapping Up
Search Engine Optimisation (SEO) is an important way of making sure your brand, business gets discovered on search engine search results. It is also an important factor in any digital marketing strategy. If done right it can help boost your business online presence and discoverability. This translates into more customers and conversions.
If you need advice or help creating, implementing a SEO strategy for your small business do not hesitate to contact Ryan Marketing Solutions.
If you found this post useful please share it with your friends
Drive your Business Forward Faster with a FREE Marketing Strategy Call!
Build Faster, Protect your Brand and Grow your Business with Ryan Marketing Solutions